Our Shop
---
Gassman Automotive has been restoring and servicing classic cars – foreign and domestic – since 1992. Mike Gassman and his staff have built an excellent business based on a long reputation of attention to detail and passion for cars. Beginning with just a three bay garage, Gassman Automotive is now home to a 13,000 square foot facility performing services including upholstery, paint and body work, mechanical rebuilding, fabrication, electrical diagnostics, and complete restorations.
Testimonials
---
After having determined that I need a complete engine rebuild, I interviewed several notable shops which specialize in Triumphs. Gassman Automotive was by far and away the most passionate business I chatted with. Mike Gassman and his team gave me lots of sound advice along the way and they stood behind their work without hesitation. Mike's approach is direct, one that I favor, and he strives to have the work he does be good enough for his own fleet of cars. His standard of excellence is a high bar.

I delivered my engine and trans to his shop, after discussing what I had in mind, Mike suggested adding rack and pinion steering as well, since it was on my list of things to add. This was great advice as it was so much easier to do with the engine of the car.

My TR3A is back on the road and is driving like a dream and a lot of thanks goes to Mike and his team. Gassman Automotive should be trusted with anyone's project, their workmanship is top notch.

--Brian Felker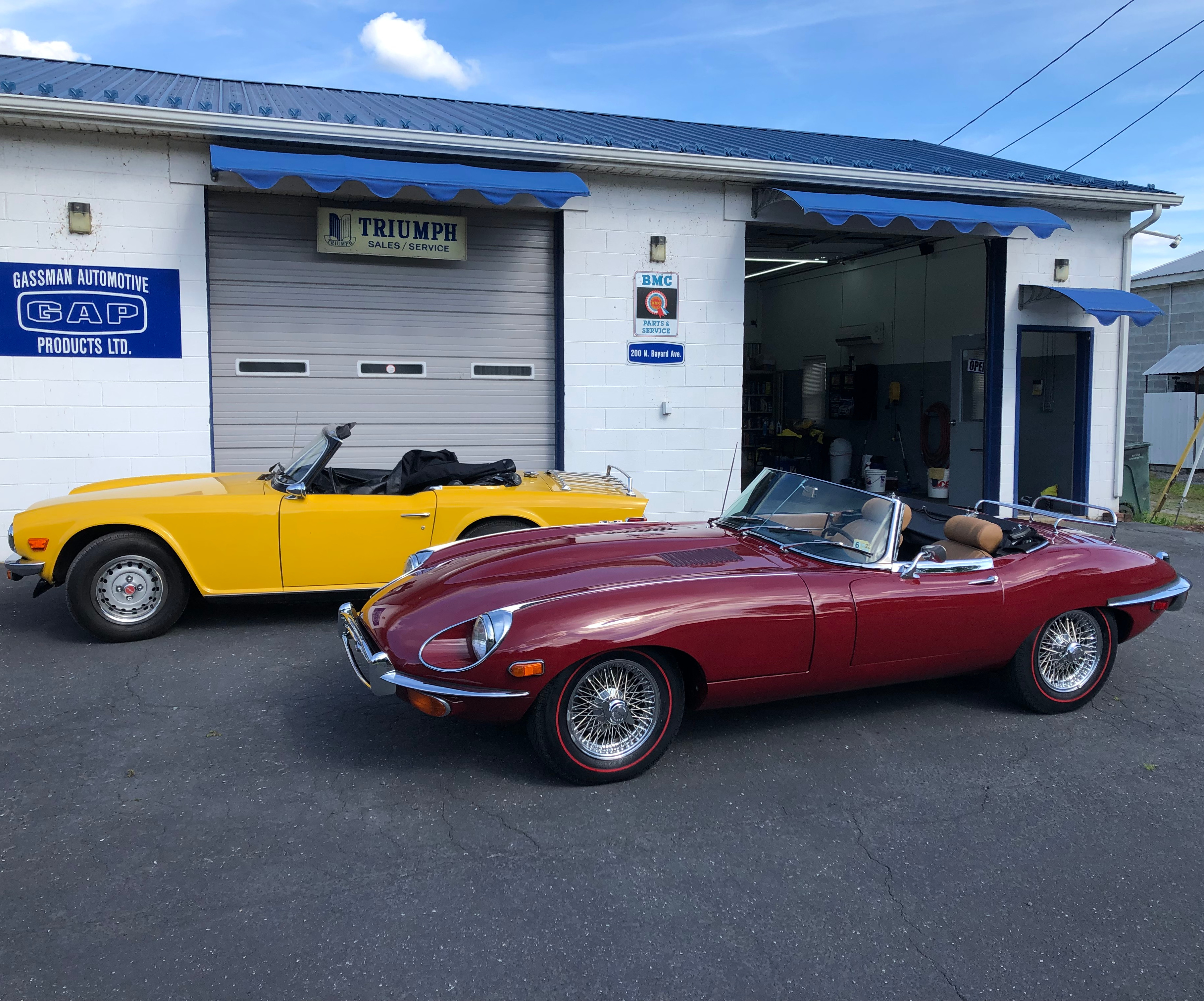 Four yeras ago, my wife and I purchased a Triumph from a private party and had been taking it to another shop for servicing. The car developed a bad transmission leak which the other shop seemed unuable to repair. We had heard about Gassman Automotive Products (GAP) through our car club connections and decided to give Mike and his team a try. Amazingly, magic Mike converted my 1976, Inca, TR6 into a beautiful 1970, Regency Red, Jaguar E-Type. Owning an E-Type has been a 50-year dream for me and when Mike showed it to me, I knew I just had to have it. Mike had no trouble finding the leak with the TR6 and fixing it and then sold it for me. He suggested and made several improvements to the E-Type. The work done at GAP was done to a very high standard and I will be taking my E-Type to him for annual maintenance. In addition to the quality work and the in-depth knowledge of both the Triumph and the Jaguar, Mike can be commended for his excellent communication with both my wife and myself during the repair, buying and selling processes.

--Paul and Susie Hemler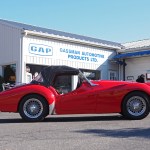 My wife and I cannot be more pleased with Gassman Automotive and its owner, Mike Gassman. When we planned to have our 1957 TR3 "freshened", we learned there was much body fill hiding accident damage – why panels, doors, and the boot lid did not align. Mike worked with us through the restoration, always asking how he should proceed. Expensive? You get what you pay for, and we are extremely pleased and happy with the restoration.
(See here for the complete restoration.)

The rest of the story is we also purchased a 1962 BT7 from Mike. It developed an oil leak shortly after the purchase. He replaced the rear oil seal (car has the rubber lip conversion kit) and also replaced a rear axle bearing and leaking seal AT NO CHARGE! When we told Mike that we understood a 58-year-old car does not come with a warranty; he replied, "It is the right thing to do." Our BT7 can be seen here.

--Kevin and Kim B.
Mike and the crew have just finished working on the charging circuit for my 1934 Riley. The troubleshooting and the work done to correct things was completed very professionally, quickly, cost effectively, and cheerfully. Thank you!

--David J.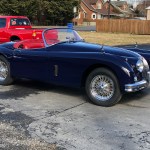 I had a terrific experience with Mike and his team. They are skilled craftsmen ( not to exclude Katy) who did a fabulous job restoring my '59 Jag. The Gassman team did exactly what I wanted; a period correct total restoration, but subtle modern upgrades to make it as enjoyable to drive, as it is to look at. Best paint job I have ever seen. The new interior upholstery is better than my new 911, the chrome is essentially perfect. We have all new rubber seals and trim, all electric instruments were recalibrated and function as new. All elements under the hood were cleaned, buffed, restores, or replaced, and it drives great.

Mike knows his stuff, and provided great, candid counsel on all aspects of the restoration. My car is better than new. I enjoyed the process immensely. Simply put, they do things right, and don't compromise on quality. I would do another project with them for sure.

--David C.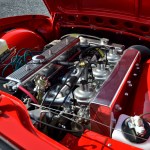 Over 30 years ago, I had to give up my TR6 when I joined the Navy. When I decided I was going to get another one, I also searched for a good shop to do the hard stuff. I found both at Gassman Automotive. I not only found my car but, I also found Mike Gassman who is the most knowledgable and talented Triumph guy I've ever met. I bought my '69 TR6 from Mike and told myself I would drive it for a year and get to know the car before I did any modifications. That lasted a month. Pretty soon I had developed a wish list of parts and restoration details that was, honestly, ridiculous.

When I approached Mike about the project, he said, shoot me your list and we'll come up with a plan. He didn't flinch. I think he was excited as I was to update the car with Richard Good's outstanding parts. Basically, if Richard sells it, I bought it. Mike installed everything, including a full engine rebuild, restored the interior and engine bay, and got it all dialed in. Along the way, Mike provided input and suggestions that really brought everything together in the best way. He patiently explained everything and answered all of my questions, multiple times. His experience and love of these cars is invaluable. A lot of shops could have done the job but, none can touch the precision and care Mike Gassman put into my car. He made sure every detail was accounted for and done correctly, which is exactly what I wanted.

I just want to share a little more about Mike's dedication and integrity. The work on my car was highly complex. Basically everything in the engine was rebuilt with high-performance parts. It is extremely difficult to get everything where it should be in terms of tuning on the first go. Mike did extensive road testing and tuning to get the car to the performance levels he achieved. Nonetheless, the triple Strombergs were a little off by the time I completed the two hour trip home. Mike came to my house and made the final adjustments himself. Oh, and by the way, he adjusted the motor mounts in my driveway. WHO DOES THAT?!

It was a true pleasure to find someone that shares my high standards and attention to detail to build my car. Thank you, Mike. And thank you to Katy and the rest of the crew. Job well done!

--Trevor Cornpropst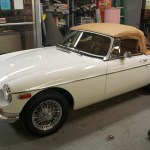 My wife and I recently purchased a 1974 MGB from Gassman Automotive and the experience was fantastic. We originally contacted Mike over the phone to enquire about a car he had listed on his homepage. The photographs were very well done, documenting the condition of the car nicely. That combined with Mike's description of the car and its history pretty much sold us. Mike held the car for us and the next week we drove down from Washington DC to take a look. We purchased the car and asked for some additional custom work. Mike's team replaced the original black interior and top with a new tan leather interior, tan top, wood steering wheel and other extras. The work was incredible and the car looks great. Along the way, Mike worked with us over e-mail and the phone, sending pictures when the project was complete. He also provided great advice concerning shipping. Our entire experience with Gassman Automotive was top notch. I'd recommend Gassman Automotive to anyone interested in a quality classic car. In fact, we're making plans now for a second purchase from Mike. Mike's a real pro and someone we trust.

--Cameron H.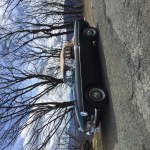 Just bought a 1967 MG-B. Mike was knowledgeable, informative, and never pushy.

The car was just as beautiful "in person" as it was on the website. More so.

Having owned a 1971 B twenty years ago, I vividly remember a speedometer needle that bounced, and a steering wheel that shimmied. Driving the car Mike sold me is an entirely different experience. Brake it hard, and it doesn't drift right or left. At 60 miles an hour, (the fastest I drove it, on the way back to North Carolina) I could let go of the steering wheel, and it tracked straight and true. It is uncanny how tight this car is.

And beautiful. Oh.

Thank you Mike!!

--Paul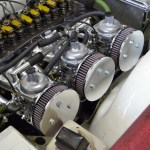 Being a perfectionist gear head, you can believe me when I say Gassman's will exceed your expectations. I just had my stock '69 TR6 upgraded with Richard Good's cam, larger valves, roller rockers, triple carbs with intake, and exhaust header, etc. The staff at Gassman's made sure every nut and bolt was exactly right and then tuned the engine to perfection before turning it over to me. The project was fairly expensive (more so parts than labor) but true 5 star service is priceless and all but impossible to find these days. I drove away with a big 'ol smile feeling some real grunt under the hood and knowing I was treated fair and square.

--Heinz Gadient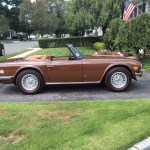 I recently purchased my 1976 TR-6 from Mike, and words cannot describe how pleased we are! The car rides like it just came out of the showroom. Many thanks to Mike for his patience, in dealing with me, and to Katy for all her help. We are looking forward to many years of enjoyment.

--Jim Graham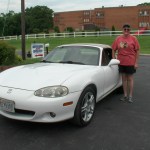 I just went to pick up my 2004 Miata that had a new top, or so I thought. But when I saw it I was totally speechless, and I got tears eyed because they had done such a phenomenal job that I virtually had a brand new car! They had cleaned it inside and out and top to bottom, I could not believe my eyes!!! It was so beautiful! I want to thank the entire team of folks that worked on my little car for a job well done and all of your superior craftsmanship!!!! If anyone is thinking about having some work done to your little car I can not begin to recommend the Gassman Automotive enough! They all are spectacular in they jobs and you will not regret letting them take care of your car. (From Facebook)

--Diann Snyder
I purchased my 1976 TR6 from the original owners who had let the car sit for years. Mike and crew rebuilt the suspension F/R, brakes, rebuilt the seats, installed all new u-joints, serviced the trans and diff., rebuilt the diff mounting pins, etc. and did a wonderful job. The car drives great and is safe! It's more fun to drive than my ZO6. They do terrific work and are very professional. We'll do more in the future.

--Bruce Thompson